Blog Archive

About Me
Lotus Reads

Book fiend,culture-vulture, world traveller, daughter of the tropics now living in the Great White North.
View my complete profile

Tuesday, December 19, 2006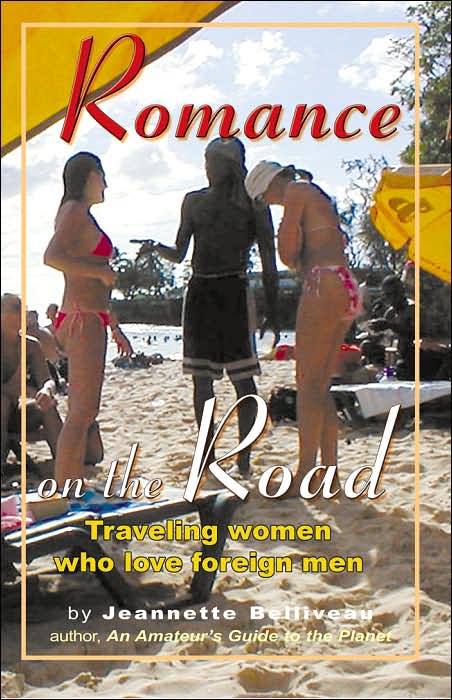 # Paperback:
412 pages
# Publisher:
Beau Monde Press; 1st edition (May 23, 2006)
# Language:
English
From the CBC (Canadian Broadcasting Corporation)
It's a largely unspoken phenomenon. Women from wealthy nations who travel to tropical lands to indulge in sex and romance provided by willing local men. Though there aren't clear numbers about how many women pay for sex in foreign lands,it is believed the phenomenon is on the rise.
In Jamaica it's called "rent-a-dread" -- local men who cruise their country's beaches for wealthy, foreign sugar-mamas. And in case you wondered, the going rate for oral sex is about $100, according to research conducted by travel writer Jeannette Belliveau.


According to a review, journalist and world traveller

Jeanette Belliveau

, 51, is uniquely qualified to finally reveal the hidden behavior of traveling women. After a painful divorce, she spent 12 years in sexual exile, with only cheerful foreign men able to provide the no-strings intimacy that was all she could handle. Her book is based on the sexual experiences of those 12 years.
The idea of women going south for sex doesn't sit well with me at all - the chances of catching sexually transmitted diseases are high, also, I feel certain many of those men who ply that particular trade are married and these rich women tourists must cause their families a lot of heartache. What do you think? Are these holiday flings seedy or are they simply harmless?
I seem to recall however that psychologists been telling us for years that women like to feel an emotional connection with a man before they are intimate with him, so where is all this hedonistic sex coming from? Also, why do women travel south for these adventures, is it for anonymity? Economic reasons? Or is it just because they find it exciting to have a fling with men from cultures other than their own. As you will tell, I haven't read the book but the very fact that this is a growing phenomenon interested me enough to want to find out more.